Michael S. Beckenstein, MD
800 St. Vincent's Drive
North Tower Suite 610
Birmingham, AL 35205
Phone: (205) 933-9308
Monday - Thursday: 8:30 a.m.–5 p.m.
Friday: 8:30 a.m.–12 p.m.

Advanced Skin Care
Cosmetic surgeon Dr. Michael Beckenstein offers advanced skin care products and procedures like microdermabrasion and BOTOX® Cosmetic in his Birmingham practice to pamper your skin and prevent or correct signs of aging. As a complement to cosmetic surgery, these facial rejuvenation and skin care products can create softer, more radiant skin with ease.
BOTOX® Cosmetic
Whether you want to prevent wrinkles or do something about them, simple injections of BOTOX Cosmetic are safe and effective. These treatments target the lines and creases that are cause by facial muscle contractions, called "dynamic wrinkles." While experiences vary, you should notice gradual smoothing of the treated areas within 3 to 5 days, which usually continues to improve for the following few weeks. You'll look naturally refreshed and more youthful, without looking expressionless or frozen. For a comprehensive facial rejuvenation, Dr. Beckenstein combines BOTOX with dermal fillers as part of a "liquid facelift".
Microdermabrasion
Microdermabrasion is a technique that helps repair facial skin damaged by the sun and other effects of aging. Microdermabrasion is offered at our Birmingham practice in North Alabama for patients who are unhappy with the texture and appearance of their skin. During the microdermabrasion procedure, Dr. Beckenstein uses a device to spray minute crystals across the surface of the skin, combining mild abrasion with gentle suction to remove the outer layer of dead skin. As with any other skin rejuvenation technique, you may need more than one microdermabrasion treatment at our Birmingham location to significantly reduce or remove unwanted pigmentation and fine wrinkles.
When you finish your microdermabrasion treatment, your skin will feel smooth and rejuvenated. You will rediscover the healthy glow of young skin. The treatment itself is painless and the results feel fantastic.
Your Procedure in 3D
Watch an informative video featuring 3D graphics to learn more about the procedure you want.
View Your Procedure in 3D
The microdermabrasion you'll experience in our office is far different from any home treatment. Although many over-the-counter lotions and soaps have microdermabrasion crystals or beads, these products cannot offer the same level of results found with professional treatments.
If you would like to learn more about the nonsurgical skin procedures, like microdermabrasion, contact our office today. We can answer any questions you have about professional skin care at our Birmingham practice, and we can schedule an appointment so you can experience our advanced skin care techniques for yourself.
Facial Rejuvenation
There are many products and techniques to cleanse, exfoliate, tone, hydrate, beautify, and heal your skin. Dr. Beckenstein offers a wide range of products designed to enhance the results of eyelid surgery and other facial rejuvenation procedures. Visit our practice to learn more about keeping your skin beautiful and healthy for years to come.
Cleanse
Washing away impurities prepares your skin to receive vital nutrients, leaving a smooth and radiant glow that looks and feels wonderful. Hydrating moisturizers are also important to the overall look and feel of your skin.
A Reputation Built on Results
Excellent surgeon and all of the staff that works with him. He cares about your overall health and that...
Always helpful and answers any questions I have. Thank you!!
I appreciate it the care and the efficiency and attention given to my situation.
Dr. Beckenstein and his staff were very professional and I am super pleased with post surgery results.
Exfoliate
Facial rejuvenation products that remove dead skin cells from the surface of your face and clean your pores will instantly improve the appearance and texture of your skin. Special creams and cleansers buff your skin and restore a softness you may have forgotten you ever possessed.
Tone
Toners with specially created pH formulas improve the look of large pores by dissolving the oil and debris inside the pore, and clearing away dead skin cells.
Beautify
Anti-aging skin care formulas moisturize and revitalize aging skin. Energizing botanicals and rejuvenating vitamins help restore a young, healthy glow. Restore lipids and firmness with luxurious facial rejuvenation treatments that will pamper your mind, body, and spirit.
Heal
Acne and rosacea can also be effectively treated and controlled at the office of Dr. Beckenstein. We offer treatments that will remove dirt and oil, cleaning the pores and preventing future outbreaks.
Join Allē℠ and Save
Dr. Beckenstein is proud to offer Allergan Aesthetic's™ full line of SkinMedica® products through our Allē loyalty program (a new and improved version of Brilliant Distinctions®). You can order your SkinMedica products directly from Allergan by going to our Online Store. Feel free to call our office at (205) 933-9308 to learn more about Allē or join online by creating a new account or linking to your existing Brilliant Distinctions information.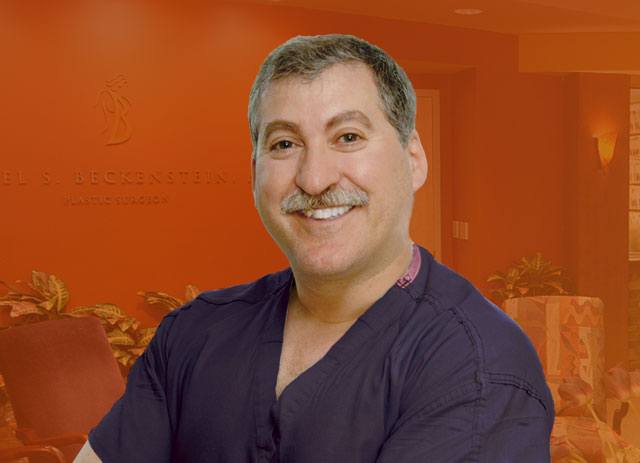 Dr. Michael S. Beckenstein
Dr. Beckenstein is a fellowship-trained, board-certified plastic surgeon whose extensive experience in breast enhancement, body contouring procedures, and reconstructive plastic surgery sets him apart.
Meet Dr. Beckenstein
If you are considering microdermabrasion or other facial rejuvenation treatment, request a Comprehensive Consultation with Dr. Michael Beckenstein for a complete skin care evaluation.