Michael S. Beckenstein, MD
800 St. Vincent's Drive
North Tower Suite 610
Birmingham, AL 35205
Phone: (205) 933-9308
Monday - Thursday: 8:30 a.m.–5 p.m.
Friday: 8:30 a.m.–12 p.m.

Breast Reduction in Birmingham, AL
At our Birmingham, AL, practice breast reduction ranks number 1 in terms of patient satisfaction. Most women with overly large breasts experience back and shoulder pain, painful grooving from bra straps, and rashes beneath the breasts. These symptoms are usually alleviated right away with reduction surgery. In addition to physical symptoms, some women are self-conscious about their excessive size. Breast reduction surgery performed by Dr. Michael Beckenstein can help restore your confidence as your breasts become more proportional to the rest of your body.
Why Choose Dr. Beckenstein for Breast Reduction
Dr. Beckenstein performs around 200 breast reduction procedures each year for women from Huntsville, Montgomery, Tuscaloosa, and other Alabama cities. He realizes that a single method might not be suited for every patient. For this reason, he has mastered several techniques and determines which technique is best suited for your individual situation. Most plastic surgeons use a single method and apply this to every patient, which may not yield the best results. With so many breast reduction patients choosing his practice over the years, Dr. Beckenstein and his staff have developed a high level of expertise in caring for you. The hospitals he works at also are proficient in your care, from the operating room through your overnight stay.
Ideal Breast Reduction Candidates
Good candidates for breast reduction surgery experience physical symptoms such as back pain, shoulder pain, neck pain and grooving from the bra straps caused by the size of their breasts. There are often rashes in the folds beneath the breasts as well. This group of symptoms is known as symptomatic macromastia. Some women may not experience any or all of these symptoms and might just feel their breasts are too large for them and want them reduced for cosmetic reasons. Candidates for surgery must be in good health and within 15 to 20% of their ideal body weight. The age range for this surgery spans from 19 to 75 years.
Exceptions to these criteria are made on an individual basis. It is important to note that there are several nuances, side effects, and complications associated with breast reduction. As with all aesthetic or reconstructive plastic surgery procedures, it is essential that you fully understand ALL of these issues BEFORE you move forward with your procedure. Dr. Beckenstein will ensure that you are fully informed during your consultation with him.
Your Procedure in 3D
Watch an informative video featuring 3D graphics to learn more about the procedure you want.
View Your Procedure in 3D
The benefits of breast reduction surgery are numerous. It will be easier to find appropriately fitting bras, bathing suits and clothing tops that match bottoms. Most patients experience a new sense of freedom that enables them to engage in activities they were never able to do because of physical discomfort. Many patients find their friends commenting that they look like they've lost weight, and many of our middle-aged breast reduction patients regret not having their procedure sooner.
Breast Reduction Methods
Dr. Beckenstein is comfortable using several techniques for breast reduction surgery, and he will find the method most appropriate for your situation. By evaluating you and listening to your desires and expectations, he will work with you to determine the right method of reduction for you.
The superior or medial pedicle method preserves the pillar of breast tissue, called a pedicle, that is attached to the nipple. This tissue is moved up into the new nipple position. When the pedicle is based on the upper portion (superior) aspect of the breast, it will remain there long term. The aesthetic results are much better than the inferior pedicle method. Dr. Beckenstein uses the superior or medial pedicle method for the majority of his patients.
The inferior pedicle method uses the tissue from the lower portion of the breast to relocate the nipple. This is the portion of the breast that is the "saggiest." This tissue will remain saggy, and with long-term follow-up, patients will notice that their nipple position will appear too high as the breast tissue returns to the lower portion of the breast. This is known as "bottoming out." The majority of plastic surgeons use this method for reduction mammoplasty.
Short scar methods also are available for the appropriate candidates. These methods retain the vertical scar and the one around the areola. The scar underneath the breast will be shorter or non-existent.
No vertical scar reduction omits the vertical scar and retains the one around the areola and underneath the breast. This method flattens the breast, diminishing the projection for women desiring this result.
Free nipple graft/nipple reconstruction is a method used when the distance to move the nipple is so long that there is no way the blood supply could keep it alive. This situation arises in women with extremely large breasts.
Suction-assisted lipectomy (liposuction) also can be used for breast reduction. This method doesn't result in the scarring associated with breast reduction surgery; only a limited number of women will be candidates for this method, which is considered experimental by most insurance companies.
Dr. Beckenstein makes sure that every breast reduction candidate has a complete and full understanding of her proposed procedure. He thoroughly educates you on these procedures and ensures you fully understand all the risks, benefits, and alternatives associated with them prior to your surgery. He listens attentively and carefully to your questions and concerns and assists you with your decision-making.
Is Breast Reduction Covered by Insurance?
Most breast reduction patients have their procedures covered by their insurance carriers. Each company has its own criteria to determine whether you are a good candidate to have your procedure covered. Upon your visit with Dr. Beckenstein, he introduces you to his insurance specialist who consults with you about your insurance coverage. She discusses your benefits and your carrier's criteria with you. She also sends your carrier all the necessary information to obtain a predetermination for your surgery. With certain carriers, she can obtain instantaneous responses at your first visit.
Combining Procedures
Other procedures can be performed with a reduction mammoplasty if Dr. Beckenstein believes it's appropriate. A breast lift is often performed for women with overly large breasts, since breast size tends to create sagging and drooping, especially for older patients. Other commonly performed procedures include liposuction and tummy tuck as part of a mommy makeover.
A lumpectomy also can be performed for select patients during a breast reduction. For women with large breasts who require a lumpectomy, the tumor and an appropriate amount of surrounding breast tissue can be excised, and the reconstruction performed as part of a single surgery. This is known as oncoplastic surgery.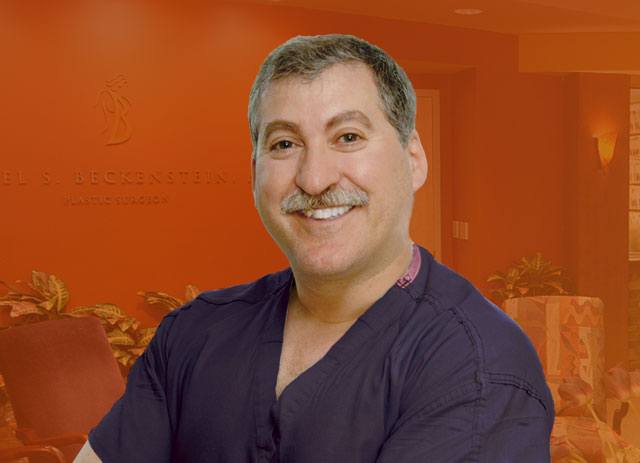 Dr. Michael S. Beckenstein
Dr. Beckenstein is a fellowship-trained, board-certified plastic surgeon whose extensive experience in breast enhancement, body contouring procedures, and reconstructive plastic surgery sets him apart.
Meet Dr. Beckenstein
If you would like to learn more about combination plastic surgery in Birmingham, request a Comprehensive Consultation using the convenient online form. An office associate will contact you promptly. Dr. Beckenstein's office staff will be delighted to answer any questions you might have and to assist you in any way. Or call us at (205) 933-9308 to schedule an appointment.
Common Questions
Why do women choose breast reduction surgery?
Improving their quality of life is probably to primary reason patients get breast reduction surgery. It is often difficult and uncomfortable to be physically active with heavy, cumbersome breasts. Women also choose this procedure because they are self-conscious about the unwanted attention large breasts can create and have difficulties finding clothing that fits properly.
A Reputation Built on Results
I could not be happier with the outcome of my breast reduction. Dr. Beckenstein and his entire staff...
I don't usually leave reviews but I was thoroughly Impressed with my visit. They didnt keep me waiting...
Everyone was friendly. Dr. Beckenstein was very informative and quick. I trust him
Will I have noticeable scars after breast reduction surgery?
All surgical incisions result in scars, but Dr. Beckenstein makes a point to minimize and conceal them as much as possible. For most breast reductions the incisions are made around the areola and straight down to the breast crease (a short-scar breast reduction). The nipple/areola complex is lifted higher, and the size of the areola is reduced if necessary while leaving the blood supply to nipple intact. Occasionally, when the reduction is minor, it can be sufficient to use incisions around the areola only.
Can I breastfeed after breast reduction surgery?
Many women are able to successfully breastfeed after breast reduction surgery. In order to breastfeed, the milk glands and ducts must remain connected to the nipple, along with their blood supply. Because breast tissue is removed, there can be a reduction in the amount of milk produced. At your confidential consultation, be sure to talk with Dr. Beckenstein about your desire to breastfeed in the future so that he can take it into consideration when planning your surgery.