Michael S. Beckenstein, MD
800 St. Vincent's Drive
North Tower Suite 610
Birmingham, AL 35205
Phone: (205) 933-9308
Monday - Thursday: 8:30 a.m.–5 p.m.
Friday: 8:30 a.m.–12 p.m.

Breast Lift in Birmingham, AL
Gravity, weight fluctuations, and pregnancy can cause the breasts to sag and, in some cases, lose volume. Dr. Michael S. Beckenstein performs mastopexy, often called a breast lift, in Birmingham to help women from Huntsville, Tuscaloosa, and Montgomery, AL, and beyond restore their breasts to a more youthful shape by restructuring the breast tissue and surrounding skin. Dr. Beckenstein is a board-certified plastic surgeon and highly regarded breast surgery specialist known for creating beautiful results.
Breast Lift

Before & After Photos
WARNING:
This feature contains nudity. Please click OK to confirm you are at least 18 years of age and are not offended by such material.
Ideal Breast Lift Candidates
The natural aging process, pregnancy, weight loss, and genetics can all contribute to a woman's breasts losing volume and shape. Stretch marks may develop, and the position of the nipples may migrate lower on the breast. This sagging is known as ptosis, which varies in severity. The degree of ptosis is based on the position of the nipple on the breast mound. If breast ptosis is very mild and the nipple is close to its normal position, Dr. Beckenstein may recommend breast augmentation without a breast lift to improve the breast appearance.
In many cases, however, especially when the nipple descends below the inframammary fold (the place where the breast skin attaches to the chest wall), a breast lift is required to restore a more youthful shape of the breast.
Your Procedure in 3D
Watch an informative video featuring 3D graphics to learn more about the procedure you want.
View Your Procedure in 3D
Your Breast Lift Surgery
Dr. Beckenstein makes sure that all breast lift candidates who visit his Alabama practice have a complete and full understanding of their proposed mastopexy procedure. He explains the procedure in detail during your consultation, along with all the associated risks and benefits. He carefully listens to your concerns and assists you with the decisions involved.
Dr. Beckenstein recommends the appropriate procedure depending on the severity of the sagging (ptosis) that has developed in the breast. The more extensive the ptosis, the more extensive the incisions. Most breast lift patients consider the scarring an acceptable tradeoff for shapelier, younger-looking breasts.
Breast Lift Incision Options
If the sagging is relatively minor, the incisions (and scars) may be limited to just outside the border of the areola with a vertical line from the areola to the base of the breast. This is often referred to as a "lollipop" or vertical breast lift.
Women with extensive ptosis generally require a full inverted "T" or anchor-shaped scar. This surgery uses the vertical pattern and adds a horizontal scar along the base of the breast (in the inframammary fold).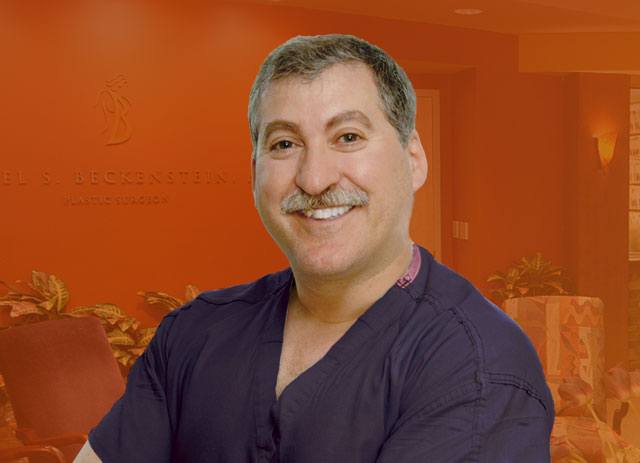 Dr. Michael S. Beckenstein
Dr. Beckenstein is a fellowship-trained, board-certified plastic surgeon whose extensive experience in breast enhancement, body contouring procedures, and reconstructive plastic surgery sets him apart.
Meet Dr. Beckenstein
Combining Procedures With Breast Lift
Women with little or diminished breast volume may sometimes choose to augment their breasts with saline or silicone gel breast implants in conjunction with their breast lift. A breast lift can be combined with breast reduction for women with overly large and drooping breasts. A breast lift also may be performed in conjunction with a tummy tuck (abdominoplasty), as part of a mommy makeover. Dr. Beckenstein often performs a breast lift as part of breast implant removal surgery.
Common Questions
How much does breast lift surgery cost?
Several factors affect the cost of breast lift, which is why we don't publish breast lift prices on our website. During your consultation, you will be provided with a written price estimate that is personalized for you and includes facility fees, anesthesia, and other factors. While it is necessary to consider price, be sure to choose a plastic surgeon who is certified by the American Board of Plastic Surgery for optimal safety and results.
How long is breast lift recovery time?
You may have swelling and bruising for about 2 weeks. You will feel sore for a few days, but prescription and over-the-counter pain medication will help. Most women are able to resume moderate daily activities within a week. It may take 4 to 6 weeks before strenuous activities and exercise can be resumed. Your incisions will be red or pink for a few months, but will eventually fade to closer to your skin color. Numbness in the area can last for up to 6 weeks.
Will my breasts look the same as when I was younger?
A breast lift restores a lifted, firmer, more youthful breast appearance. Also, your nipple size can be reduced as part of this procedure if desired. However, there's no guarantee your breasts will look the same as how they looked years earlier, especially if you have had children or your weight has varied significantly. Most women are very happy with the improved, more youthful look of their breasts after this procedure.
A Reputation Built on Results
Love Dr Beckenstein and all the Ladies that work there, they go above and beyond to make sure your treated...
I had the best experience with Dr. Beckenstein and his team! They made me feel super comfortable and...
I have been with Dr.Beckenstein & his staff about 16 years now. I couldn't ask for a better group of...
Dr. Beckenstein and his staff are AMAZING! They were ready to answer any and all questions I had. Everyone...
Can I get a nonsurgical breast lift?
Unfortunately, there is no nonsurgical treatment that can lift and reshape breasts and nipples that sag and point downward. Only a surgical breast lift can achieve this.
Will I have noticeable scars?
Scars are an unavoidable result of any surgical procedure. Depending on the amount of skin being removed and the anatomy of your breasts, Dr. Beckenstein strives to minimize scars and conceal them by placing them around the areola or along the breast crease. For most women, the improvements in breast shape far outweigh the surgical scars, which often fade and diminish within the first year.
Will I need breast enlargement along with a breast lift?
Women who have only minor sagging and do not want their breast size increased can benefit from breast lift surgery alone. When the breasts sag significantly and breast volume has been lost (due to factors like weight loss or childbirth), I might recommend breast enlargement in addition to the lift.
How long does a breast lift last?
Unfortunately, gravity and the aging process are always affecting the shape of your breasts, even after surgery. There are factors you can control that will extend the improvements you gain from breast lift surgery. Pregnancy and nursing significantly affect your breasts, so planning the surgery after your family is complete can avoid these changes. Maintaining your weight is another way to prevent stretching out the breasts. Through these means, most women can enjoy their improved breast shape for many years.
If you've been thinking about getting a breast lift, request a Comprehensive Consultation to discuss the procedure with Dr. Beckenstein using the online form. Or give our office a call at (205) 933-9308 to schedule an appointment.