Michael S. Beckenstein, MD
800 St. Vincent's Drive
North Tower Suite 610
Birmingham, AL 35205
Phone: (205) 933-9308
Monday - Thursday: 8:30 a.m.–5 p.m.
Friday: 8:30 a.m.–12 p.m.

Breast Augmentation in Birmingham, AL
Women throughout the Southeast, some northern states, and from all over the world have sought out Michael S. Beckenstein, MD, for breast augmentation surgery in Birmingham, AL. He performs breast enlargement for patients who are unhappy with the size or shape of their breasts and have decided to pursue this surgical procedure to improve their appearance.
Breast Augmentation

Before & After Photos
WARNING:
This feature contains nudity. Please click OK to confirm you are at least 18 years of age and are not offended by such material.
What Is Breast Augmentation Surgery?
Breast augmentation, also called breast enlargement or a boob job, is a breast enhancement procedure that makes the breasts fuller using silicone or saline implants. It has a high satisfaction rate among Dr. Beckenstein's patients, making it one of most popular procedures he performs.
How Much Does Breast Augmentation Cost in Birmingham, AL?
Several factors affect the cost of breast augmentation, which is why we can't put breast augmentation prices on our website. During your consultation, you will be provided with a written price estimate that is personalized for you and accounts for hospital fees, anesthesia, breast implants, and other factors. Silicone implants, a favorite of many patients, are more expensive than saline. While it is necessary to consider cost, be sure to choose a plastic surgeon who is certified by the American Board of Plastic Surgery for optimal safety and results.
Breast Augmentation Candidates
If you've ever wondered "Should I have breast augmentation?" you might be a good candidate. Breast augmentation is well‐suited for women from Huntsville, Montgomery, Tuscaloosa, and other Alabama communities who want larger, fuller breasts with a more attractive shape. You may be a good candidate if you're interested in:
Increasing the size of breasts that you've always felt are too small
Enlarging and reshaping breasts after having children or losing a large amount of weight
Balancing the size and shape of uneven breasts
Feeling more confident and feminine
Women choose Dr. Beckenstein for breast enlargement in Birmingham because of the excellent care he provides and the impressive results he achieves.
Your Procedure in 3D
Watch an informative video featuring 3D graphics to learn more about the procedure you want.
View Your Procedure in 3D
Your Options for a Personalized Result
When you meet with Dr. Beckenstein for your consultation, he will provide a great deal of information about the procedure. He will also perform an extensive examination, during which he will analyze your breast dimensions carefully. After discussing your aesthetic goals, BOTH of you will develop a plan for your augmentation—including breast implant type, size, and placement, as well as incision site. Dr. Beckenstein will listen carefully to all your expectations and concerns. He will assist you with the decisions that are necessary to reach your goal of a successful breast augmentation.
Breast Implants
Dr. Beckenstein offers many types of breast implants. They are available in a variety of sizes and can be filled with saline or silicone gel, depending on patient preference and needs. Silicone gel implants are available for all women over the age of 22. Based on your current breast dimensions and desired result, Dr. Beckenstein will recommend the appropriate implant to assure a natural‐looking outcome without an obviously "augmented" appearance.
Incision Site
When performing breast augmentation, Dr. Beckenstein offers three options for incision site (see illustration):
Inframammary: This incision is placed beneath the breast, where the new breast crease will form. It is very well concealed and enables the lower curve of the breast to be shaped.
Periareolar: Implants can be placed through an incision along the lower edge of the areola.
Transaxillary: This incision is placed in a natural crease in the underarm.
At your confidential consultation, Dr. Beckenstein will help you decide which incision is best for you by taking into consideration the type, size, and shape of the breast implants you choose. He also considers aesthetics related to the location of the surgical scars. Each approach has distinct advantages and disadvantages, which Dr. Beckenstein will discuss with you in detail.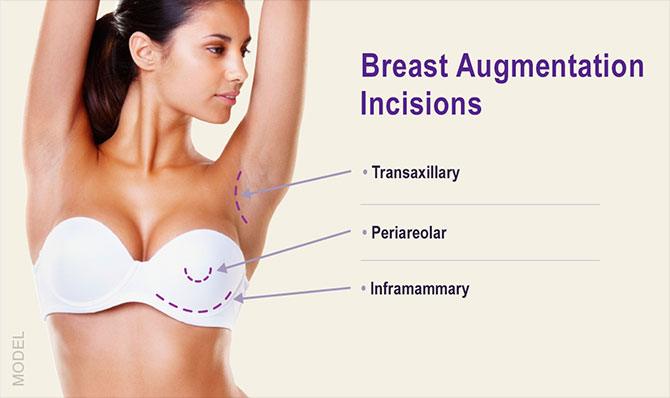 Breast Implant Placement
After making the incision, Dr. Beckenstein creates a space, called the pocket, for the breast implant. Placement options for the pocket include:
Subglandular: Above the chest muscle and beneath the breast tissue
Subpectoral: Beneath the breast tissue and the chest muscle
Dual‐plane: A combination of the above two techniques
Implant placement largely depends on your natural breast anatomy and desired goals. Dr. Beckenstein prefers the subpectoral approach for the majority of his patients, but he often uses either the dual‐plane or subglandular method for women who have marginal sagging (ptosis) or less skin elasticity. Dr. Beckenstein always strives to achieve a natural appearance.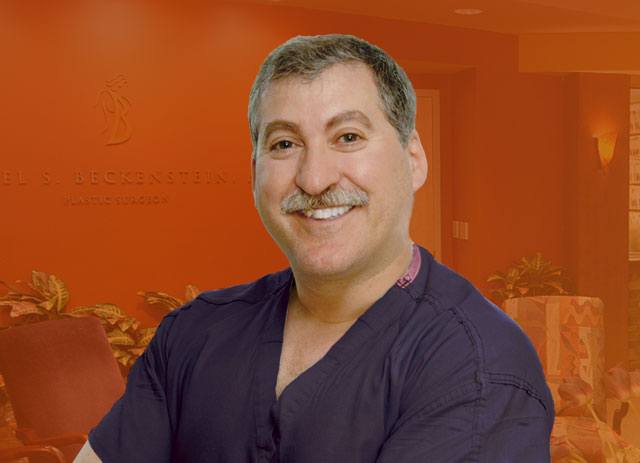 Dr. Michael S. Beckenstein
Dr. Beckenstein is a fellowship-trained, board-certified plastic surgeon whose extensive experience in breast enhancement, body contouring procedures, and reconstructive plastic surgery sets him apart.
Meet Dr. Beckenstein
Breast Augmentation vs. Breast Lift
While breast augmentation and breast lift surgery are both breast enhancement procedures, they provide different benefits. Here is how they compare:
Breast augmentation adds and restores volume to the breasts. It can also improve the appearance of slightly sagging breasts by filling out the stretched skin.
Breast lift surgery corrects significant sagging, lifts the nipples above the breast crease, and restores a youthful breast shape. It does not add fullness and can even make the breasts appear smaller.
Many women benefit from a combination breast augmentation and lift to enhance breast size and shape. Dr. Beckenstein performs a thorough physical examination during the consultation to determine the most appropriate surgical plan for each patient's body and cosmetic goals.
Your Breast Augmentation Surgery
Dr. Beckenstein performs breast augmentation as an outpatient procedure in one of several area hospitals, which offer important safety advantages over office‐based surgery. This procedure generally takes 45 minutes to 1 hour to complete. Incisions are carefully placed so they're well concealed and scars are minimized. For saline implants, the incision is approximately 1 inch in length. Through this incision, Dr. Beckenstein creates the pocket where the implant will be placed. After the implant is in place, incisions are sutured, and your breasts will be supported with a light dressing and surgical bra. Dr. Beckenstein will thoroughly discuss all these details with you during your consultation.
A Reputation Built on Results
Love Dr Beckenstein and all the Ladies that work there, they go above and beyond to make sure your treated...
I had the best experience with Dr. Beckenstein and his team! They made me feel super comfortable and...
I have been with Dr.Beckenstein & his staff about 16 years now. I couldn't ask for a better group of...
Dr. Beckenstein and his staff are AMAZING! They were ready to answer any and all questions I had. Everyone...
Breast Augmentation Recovery
Patients are usually ready to return to work or school in 7 to 10 days, although experiences vary. Here is a general recovery timeline:
Day 1 to 3: Expect to be tired and sore after surgery. Prescription pain medication is typically enough to keep patients comfortable. Have a friend or family member stay with you to help with meals, pets, children, and household chores.
Week 1: Wear a surgical bra at all times except when showering. It is okay to resume driving if you're not taking prescription pain medication.
Week 2: Nipple sensitivity begins returning to normal. Initially, the nipples can be overly sensitive or lose sensitivity.
Weeks 4 to 6: Resume full activities including strenuous exercise.
Month 3: Final results are attained as swelling has dissipated, skin and tissues have relaxed, and implants have dropped into a natural position.
Frequently Asked Questions
What should I avoid after breast enhancement surgery?
To help your recovery go as smoothly as possible, make sure to avoid the following after your surgery:
Soaking the incisions. While it's safe to shower as early as 24 hours after surgery, soaking in a bathtub, swimming pool, hot tub, or the ocean puts you at risk for infection if done too soon.
Sleeping on your stomach. Instead of putting pressure on your breasts while you sleep, sleep on your back for the first week or so. Sleeping propped up with pillows or in a recliner can help you stay on your back while keeping swelling to a minimum.
Overdoing exercise. While gentle walking is helpful as soon as possible, intense cardio workouts, weightlifting, and other strenuous exercise should be avoided for about 6 weeks.
Drinking alcohol and smoking. These substances put a strain on they body and can interfere with the healing process.
Is breast augmentation recovery painful?
Most breast augmentation patients are moderately sore for 2 to 3 days and find that prescription pain medication is helpful. Expect your breasts to feel tight for the first week due to swelling and stretching of the breast skin and chest muscles. This varies with each patient's anatomy and the surgical technique that is used.
Is there a weight limit for breast augmentation surgery?
Being in good health is essential for the safety of any surgery including breast augmentation. It is best to be at or near a healthy, stable weight before the surgery.
Is it okay if I lose weight after a breast augmentation?
If you lose a small amount of weight afterward (10 pounds or so), it shouldn't affect your results. More significant weight loss is not advised because it might make your breasts look out of proportion or lead to sagging.
When can I exercise after breast augmentation?
Patients can and should begin walking the day of surgery, but nothing strenuous.  After about 2 weeks, most women can resume low-impact exercises such as walking on a treadmill, riding a stationary bike, or using an elliptical machine. It is important that you avoid chest exercises like push-ups or anything that involves reaching or heavy lifting. Most patients will need to wait 4 to 6 weeks before resuming strenuous exercise.
Can I get fat transfer breast augmentation?
Fat harvested from another part of the body can provide a subtle increase in breast size, but not the dramatic results implants create. Fat transfer can be used to enhance breast augmentation results by softening the outline of a breast implant or creating improved symmetry. Dr. Beckenstein has been using fat transfer to enhance the results of breast reconstruction for many years, and he will discuss your options for fat transfer breast augmentation at your consultation.
My breasts are different sizes. Can breast augmentation help?
Certainly. Many women choose this procedure because they want their breasts to be the same size. Dr. Beckenstein can enlarge the smaller breast or enlarge both breasts using implants of different sizes.
Can I get a tummy tuck along with breast augmentation?
Dr. Beckenstein can safely perform breast augmentation in conjunction with other cosmetic surgery procedures such as a tummy tuck and liposuction. These custom combination procedures are called a mommy makeover because they are popular with women after pregnancy and breastfeeding.
Will my enhanced breasts look fake?
It's a common misconception that it's obvious when a woman has undergone breast augmentation. In fact, many of the women who Dr. Beckenstein in Birmingham for breast augmentation choose this procedure to achieve an enhanced, feminine shape that is not overly large or has that "augmented, fake look." Placing implants beneath the chest muscle and carefully choosing the right implant size can contribute to a more feminine, but still very natural, look. Choosing anatomically shaped gummy bear breast implants can also make the breasts appear more natural. To see results attained by some of his actual patients, view our photo gallery online.
Can I breastfeed after breast enlargement surgery?
While actual results depend on a variety of factors, many women are able to successfully breastfeed after breast augmentation surgery. If you plan to breastfeed, be sure to inform Dr. Beckenstein before your surgery so he can minimize any impact to the milk ducts and glands.
If you would like to learn more about breast augmentation (augmentation mammoplasty), you can request your comprehensive consultation online or feel free to speak with an office associate at  (205) 933-9308. Dr. Beckenstein's office associates will be delighted to answer any questions you might have and arrange for you to speak with him in person.