Michael S. Beckenstein, MD
800 St. Vincent's Drive
North Tower Suite 610
Birmingham, AL 35205
Phone: (205) 933-9308
Monday - Thursday: 8:30 a.m.–5 p.m.
Friday: 8:30 a.m.–12 p.m.

Sunetics G Laser Hair Therapy
Men and women who suffer from thinning hair now have a treatment alternative to invasive surgeries or harsh topical products. With Sunetics G Low Level Laser Therapy, hair growth treatment patients in Birmingham can stop the hair loss process and regrow thick, beautiful hair. This FDA-cleared device is effective and easy to use with no side effects.
Interested in learning more about our services and how Sunetics is an effective way to regrow hair in Birmingham? Request a Comprehensive Consultation or call us at (205) 933-9308.
All About Sunetics
Thinning hair affects thousands of local men and women. Although there are lots of options to stop hair loss in Birmingham, they can be uncomfortable, time-consuming, and costly. Many products on the market today are advertised as lasers but are actually only red-colored LED lights, and they are ineffective. The Sunetics G Low Level Laser is a true laser, and its patented technology allows for even dispersion of laser energy to completely saturate the scalp. How can Sunetics help you?
Men: Sunetics is a great choice for men of all ages who wish to restore lost hair and slow or even halt current hair loss. It is the best option for younger men who are not yet candidates for hair replacement. Patients undergoing traditional hair replacement surgery or NeoGraft® can also enhance their results with supplemental therapy from Sunetics. Because Sunetics increases blood flow to the scalp, the transplanted hairs show a better rate of survival.
Women: There are few options for women with hair loss, undesirable topical treatments or surgery. Low level laser therapy, including Sunetics, can help reverse thinning around the part, where early hair loss often occurs. It is an excellent option for treating the entire scalp. Women undergoing surgical methods of hair replacement may also supplement their results with Sunetics. Sunetics is a discreet, convenient method for promoting natural hair regrowth.
Chemotherapy patients: Although hair loss due to chemotherapy is often temporary, Sunetics can help expedite the regrowth process and is effective in reversing long term hair loss effects.
The Laser Treatment Process
At the Birmingham office of Dr. Michael S. Beckenstein, treatment with the Sunetics G system is easy, comfortable, and convenient. The Laser therapy is administered by simply sitting under an open-paneled hood that fits over the head, covering the entire scalp and delivering a consistent, even level of laser energy. During the treatment, there is no discomfort or pain. We offer inviting chairs and a calm, quiet treatment area where you may read, browse the Internet, or simply relax. Many of our patients say it is a great way to escape from daily demands and just relax.
During the procedure, the laser light penetrates the scalp to increase blood flow to the hair follicles. The increased blood flow also promotes metabolic activity, enhancing the quality of the existing hair and reactivating dormant hair follicles.
Dr. Beckenstein offers 3-month, 6-month, and 12-month options for treatment, and which one is right for you is dependent on your lifestyle and level of hair loss. You may also select an annual maintenance plan for prolonging your results.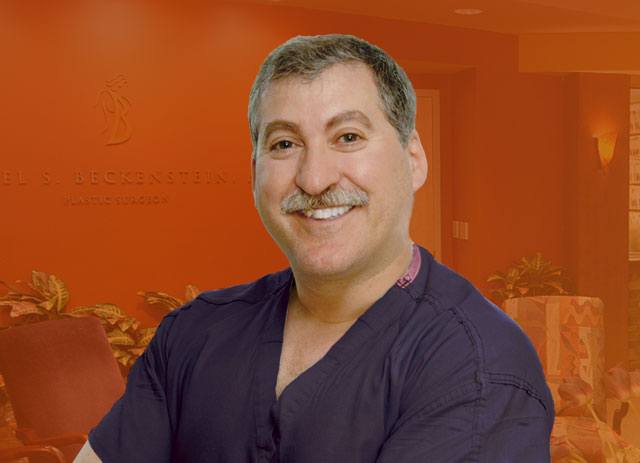 Dr. Michael S. Beckenstein
Dr. Beckenstein is a fellowship-trained, board-certified plastic surgeon whose extensive experience in breast enhancement, body contouring procedures, and reconstructive plastic surgery sets him apart.
Meet Dr. Beckenstein
Sunetics Benefits CLINICALLY PROVEN
The FDA-approved Sunetics G Low Level Laser Therapy is the most powerful laser available to treat hair loss in the United States today.
Sunetics G is easy to use, creating a safe, comfortable experience for each patient. As a non-invasive treatment, Sunetics requires no recovery period or downtime, and because no incision is needed, it's a discreet option for those who are sensitive about their hair loss.
A Reputation Built on Results
My telehealth visit went as planned. It was a quick and easy way to visit Dr. B without making a two-hour...
Dr. Beckenstein and his staff treated me with so much kindness and respect from beginning to end. Contact...
Excellent surgeon and all of the staff that works with him. He cares about your overall health and that...
Always helpful and answers any questions I have. Thank you!!