Michael S. Beckenstein, MD
800 St. Vincent's Drive
North Tower Suite 610
Birmingham, AL 35205
Phone: (205) 933-9308
Monday - Thursday: 8:30 a.m.–5 p.m.
Friday: 8:30 a.m.–12 p.m.

Liquid Facelift in Birmingham
Some middle-aged patients we see at our practice desire a more youthful appearance but are not yet candidates for a surgical facelift. In these cases, Dr. Michael S. Beckenstein combines advanced injectable treatments such as dermal fillers and BOTOX® Cosmetic to provide a rejuvenated look for women and men at his Birmingham, AL, practice. This "liquid facelift" with minimal downtime is an excellent alternative to more invasive facial rejuvenation procedures. 
The best way to determine whether a liquid facelift can give you the desired cosmetic results is by requesting a Comprehensive Consultation with Dr. Beckenstein, one of the area's top choices for facial rejuvenation. He thoroughly evaluates patients, spending as much time as needed for them to become comfortable and confident with their treatment options, before carefully developing a treatment plan.
Your Procedure in 3D
Watch an informative video featuring 3D graphics to learn more about the procedure you want.
View Your Procedure in 3D
What Is a Liquid Facelift?
Fine lines and wrinkles may begin developing as early as your late 20s. Crow's feet around the eyes and forehead "worry" lines are usually the first signs of aging. As we get older, our skin begins to lose its elasticity and starts to sag, and the cheeks and areas below the eyes lose their youthful volume. By combining BOTOX injections with dermal fillers, such as JUVÉDERM VOLUMA® XC, Radiesse®, and BELOTERO BALANCE®, Dr. Beckenstein targets each of those conditions with carefully planned, precise treatments.
Dr. Beckenstein prefers BELOTERO, an advanced hyaluronic acid (HA) filler, to treat very superficial lines and wrinkles. VOLUMA XC is the only HA filler approved by the FDA to restore volume to the cheeks, and Radiesse and JUVÉDERM® Ultra and Ultra Plus are effective for moderate to severe wrinkling around the mouth and in other areas.
Nanofat grafting is another technique used by Dr. Beckenstein for nonsurgical facial rejuvenation. This procedure involves using the patient's own fat—which is extracted via liposuction—and strategically injecting the purified fat as an alternative to fillers.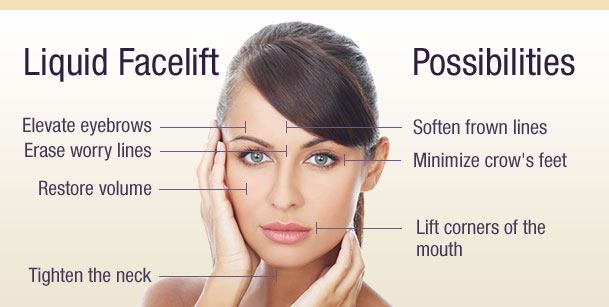 Liquid Facelift vs. Surgical Facelift
A liquid facelift performed by an experienced injector will create a more youthful appearance. It is a great option for middle-aged patients with early to moderate signs of facial aging. Surgical facelifts, on the other hand, are needed when a patient has excess, loose skin, and sagging tissue.
Dr. Beckenstein carefully assesses your skin's laxity and tone to help determine if a liquid facelift is the best choice for you. Women and men in their 40s and 50s with mild jowls, vertical lip lines, nasolabial folds, and crow's feet may be good candidates for the non-surgical method.
The advantages of a liquid facelift include:
No incisions: Because a liquid facelift uses only injectables, there are no incisions leaving a permanent scar.
Little to no downtime: Most patients may take a day or 2 off work after getting a liquid facelift to allow any redness or swelling to dissipate, but many also return to their regular activities immediately with a touch of concealer.
More subtle results: Your appearance may attract a few double-takes from friends and co-workers who think you look rested or refreshed or that you've changed your hairstyle. But a liquid facelift won't yield the more dramatic results that occur following a surgical facelift.
Less expensive: This is true, although the cost savings shrink each time you need to renew the results. Liquid facelift results are temporary and Dr. Beckenstein recommends touch-up treatments every few months or so to maintain your refreshed appearance.
Versatility: Fillers and BOTOX can be used in virtually all areas of the face and neck. Combining different products for different concerns offers an unprecedented level of customization.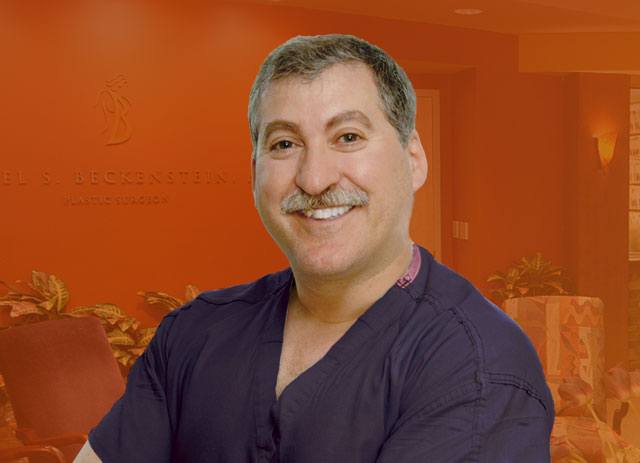 Dr. Michael S. Beckenstein
Dr. Beckenstein is a fellowship-trained, board-certified plastic surgeon whose extensive experience in breast enhancement, body contouring procedures, and reconstructive plastic surgery sets him apart.
Meet Dr. Beckenstein
What to Expect
Dr. Beckenstein creates an individualized treatment plan for you during your visit. The advanced fillers he uses are formulated with a local anesthetic to assure your comfort during the procedure. A liquid facelift typically averages 30 to 45 minutes to complete. He will request you return 2 weeks after your procedure to evaluate your result and determine whether you need adjustments in a second "perfection session." Complications are extremely rare following injectable treatments. Some of the common side effects from the injections include:
Redness
Swelling
Itching
Bruising
In most cases, any side effects diminish within a couple of days of the procedure.
A Reputation Built on Results
My telehealth visit went as planned. It was a quick and easy way to visit Dr. B without making a two-hour...
Dr. Beckenstein and his staff treated me with so much kindness and respect from beginning to end. Contact...
Excellent surgeon and all of the staff that works with him. He cares about your overall health and that...
Always helpful and answers any questions I have. Thank you!!