Michael S. Beckenstein, MD
800 St. Vincent's Drive
North Tower Suite 610
Birmingham, AL 35205
Phone: (205) 933-9308
Monday - Thursday: 8:30 a.m.–5 p.m.
Friday: 8:30 a.m.–12 p.m.

Mommy Makeover in Birmingham, AL
Changes inevitably occur to women's bodies over time, either after pregnancy and breastfeeding, significant weight fluctuations, or the aging process. To help women address these changes and feel more confident about their appearance, Dr. Michael S. Beckenstein performs a personalized combination of procedures called a mommy makeover at his Birmingham, AL, practice.
Mommy Makeover

Before & After Photos
WARNING:
This feature contains nudity. Please click OK to confirm you are at least 18 years of age and are not offended by such material.
Ideal Mommy Makeover Candidates
As the name indicates, mommy makeovers are particularly popular among Alabama women from Montgomery, Tuscaloosa, Huntsville, and the Birmingham area who have had children. Pregnancy, childbirth and breastfeeding can have a significant impact on the body, especially the breasts and tummy. You may be a good candidate for mommy makeover surgery if you are in good health, have realistic goals, and are at or near your target weight. A mommy makeover can provide a combination of the following improvements:
Replace lost breast volume
Tighten stretched skin on the breasts and tummy
Repair weakened abdominal muscles
Reduce stubborn pockets of fat
Enhance self-confidence
Dr. Beckenstein and you will meet for a thorough consultation to explain your options. He performs a physical exam, talks with you about your concerns, and then develops a mommy makeover plan to fit your needs.
Mommy Makeover Procedure Options
While Dr. Beckenstein customizes each surgical plan to the patient's unique needs and aesthetic goals, mommy makeovers typically include a combination of the following procedures for the breasts and body:
Rejuvenate Your Breasts
Breast augmentation fills out and reshapes the breasts with silicone or saline breast implants. You can choose this procedure to return your breasts to their pre-pregnancy size, or to have the fuller breasts you have always wanted.
Breast lift, with or without implants, can reshape stretched or drooping breasts and areolas and create a more youthful look.
Breast reduction provides physical relief from overly large breasts while improving their shape. Dr. Beckenstein can also reduce and reshape enlarged areolas to give the breasts a more balanced look.
Rejuvenate Your Body
Tummy tuck can smooth and tighten lax skin on the tummy, flatten bulging abdominal muscles, and reshape your belly button. Dr. Beckenstein offers several versions of this procedure, such as a traditional tummy tuck and a mini tummy tuck.
Liposuction reduces areas of excess fat that remain after you get down near your pre-baby weight. Moms often choose this procedure to contour the waist, thighs, abdomen, and arms, among other areas.
Your Mommy Makeover Surgery
Dr. Beckenstein typically performs mommy makeover procedures as outpatient surgery using general anesthesia. Most often, he can complete a mommy makeover in 3.5 to 4 hours. This is an important milestone: Procedures that last more than 6 hours tend to have increased complications, and safety is of utmost importance.
During the recovery after your mommy makeover, it will be helpful to have a loved one to assist you with your needs and take over your normal household duties, so you can relax and let yourself heal.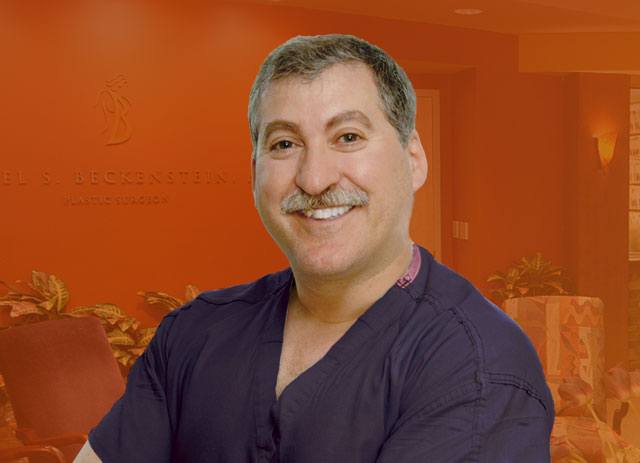 Dr. Michael S. Beckenstein
Dr. Beckenstein is a fellowship-trained, board-certified plastic surgeon whose extensive experience in breast enhancement, body contouring procedures, and reconstructive plastic surgery sets him apart.
Meet Dr. Beckenstein
Frequently Asked Questions
What are the advantages of having a mommy makeover?
If you have more than one area you'd like to improve, there are several advantages to having your procedures performed together:
Multiple improvements with a single surgery
A single recovery period
Lower overall cost of surgery
How much does a mommy makeover cost?
Because mommy makeovers vary widely in the procedures performed and surgical complexity, it's difficult to provide a price without a consultation. While it is necessary to factor in cost when making a decision, Dr. Beckenstein encourages patients to consider a surgeon's training and experience first and foremost.
The simplest way to choose a qualified plastic surgeon is to choose one who is certified by the American Board of Plastic Surgery. In addition, be sure to choose a surgeon who has performed many of these complex combination procedures, because experience matters.
Should I postpone my mommy makeover until I'm done having children?
Plastic surgery will not impact your ability to carry a baby to term and deliver safely; however, mommy makeovers are a significant investment both physically and financially. It is likely that a subsequent pregnancy will stretch out your breasts and abdominal area again, undoing the improvements from your surgery.
Is breast augmentation always part of a mommy makeover?
If you are not pleased with your breast size, an augmentation would be suggested. If you are happy with your breast size, an augmentation may not be necessary. A lift may be what you need if you want to change the shape, making your breasts more "perky."
A Reputation Built on Results
Love Dr Beckenstein and all the Ladies that work there, they go above and beyond to make sure your treated...
I had the best experience with Dr. Beckenstein and his team! They made me feel super comfortable and...
I have been with Dr.Beckenstein & his staff about 16 years now. I couldn't ask for a better group of...
Dr. Beckenstein and his staff are AMAZING! They were ready to answer any and all questions I had. Everyone...
How long after having a child should I get a mommy makeover?
Women should wait until they are finished having their children before proceeding with surgery. You should be finished with breastfeeding and return to as close as your ideal body weight as possible before plastic surgery. A minimum of 6 months to a year is a reasonable time frame to consider a mommy makeover. You must also consider logistics of managing your family with the recovery time of these procedures. It is challenging caring for small children with the activity restrictions after surgery. Good logistical planning will ensure a smooth recovery period.
What will the scars be like?
Scars are an inevitable part of any surgery, but Dr. Beckenstein uses surgical methods that ensure your incisions are in discreet locations. He will also give you aftercare instructions to help your scars heal quickly and be as inconspicuous as possible.
What's the best way to keep the results from a mommy makeover?
Leading a healthy lifestyle can help you maintain a stable weight, so you can keep enjoying your more attractive shape. This includes healthy diet and exercise regimens. Wearing a good support bra prevents the breast tissue from stretching, which could increase scarring. Good skin care is essential for maintaining your result, including moisturizing and prevention of sun damage.
If you would like to meet with Dr. Beckenstein in Birmingham and learn more about mommy makeover surgery, please request your comprehensive consultation online or feel free to speak with an office associate at (205) 933-9308.