Michael S. Beckenstein, MD
800 St. Vincent's Drive
North Tower Suite 610
Birmingham, AL 35205
Phone: (205) 933-9308
Monday - Thursday: 8:30 a.m.–5 p.m.
Friday: 8:30 a.m.–12 p.m.

Breast Reconstruction in Birmingham, AL
Before establishing his practice in Birmingham, AL, board-certified plastic surgeon Dr. Michael Beckenstein completed an additional 3 years in fellowship training in breast reconstruction under some of the world's leading experts in the specialty. Dr. Beckenstein's commitment to providing women compassionate, expert care led to the American Cancer Society awarding him its prestigious Life Inspiration Award.
Dr. Beckenstein's Training & Expertise
Dr. Beckenstein pursued advanced breast reconstruction surgical training to help women from Montgomery, Tuscaloosa, Huntsville, and beyond facing the physical and emotional challenges that occur following a mastectomy or lumpectomy.
Dr. Beckenstein's breast reconstruction fellowship training included:
Atlanta, GA: Trained with Dr. Carl Hartrampf, who developed the TRAM flap technique (which uses skin, muscle, and fat from the lower abdomen to create the breast mound)
Georgetown University: Trained under Dr. Scott L. Spear, a world-renowned breast surgeon and co-developer of the anatomic implants used in many breast reconstruction procedures
Birmingham, AL: Fellowship training in microsurgical techniques and other modern refinements in breast surgery
Many women considering breast reconstruction choose Dr. Beckenstein's practice after being referred by their oncologic surgeon or after talking with other breast cancer survivors who have chosen reconstruction.
Your Procedure in 3D
Watch an informative video featuring 3D graphics to learn more about the procedure you want.
View Your Procedure in 3D
Unique Services at the Alabama Breast Cancer Cooperative
We provide a number of special services for our breast reconstruction patients through the Alabama Breast Cancer Cooperative, a unique concept in comprehensive breast cancer care developed by Dr. Beckenstein. Our internal support system pairs patients with one another based on personality, where they live, and other demographic factors. Through these special bonds, our patients have a better overall experience, where they can share their respective experiences with one another and know that they are not alone!
The cooperative includes a counselor who specializes in treating emotional issues facing many breast cancer patients. Spiritual advisors are also available. Physical therapists may observe surgery at Dr. Beckenstein's invitation, helping them develop a better appreciation of what might cause discomfort for patients. We also set aside a few days each month for customized spa-type activities and massage therapies designed for the special needs of our breast reconstruction patients. We also supply access to specialty products such as bras, wigs, and support garments.
Alabama Breast Cancer Cooperative
Our unique approach features collaboration among highly regarded, compassionate oncologists and radiation specialists to provide integrated care in a non-intimidating environment.
Learn More
You Have Options When It Comes to Breast Reconstruction
Breast reconstruction is an option for women who undergo a mastectomy or lumpectomy, but it is not a requirement. Many women choose prostheses instead of surgery. If you are considering breast reconstruction, you should be in good overall health, be within a reasonable weight/height ratio, and within the appropriate age range. These are issues that Dr. Beckenstein discusses with you during a comprehensive consultation.
Timing of Reconstruction After Mastectomy
You have two options for the timing of breast reconstruction after mastectomy, but both options may not be available to you, depending on your circumstances.
Immediate Reconstruction
This option allows the patient to have their breast reconstruction performed (or at least begun) at the time of their mastectomy. The advantages include reduced surgical and recovery time, better aesthetic results, and, for many women, a psychological benefit.
Delayed Reconstruction
The breast reconstruction procedure can be scheduled weeks, months, or even years later. There are various reasons patients may choose this option. In some cases, immediate reconstruction isn't an option.
Breast Reconstruction Techniques
Techniques such as microsurgery and the development of anatomical breast implants have significantly improved the outcomes of breast reconstruction procedures. Dr. Beckenstein offers 2 types of reconstruction techniques. In many cases, he may combine the 2 methods during the procedure.
Autologous Tissue Reconstruction
Dr. Beckenstein transfers muscle, fat, and skin from 1 area of your body (the donor site) to the chest. He often takes it from the abdomen, known as a TRAM flap. This is a good option if there is enough abdominal tissue to rebuild a breast because it incorporates abdominoplasty (tummy tuck) into the procedure.
Other sources of natural tissue are the back (latissimus dorsi flap), gluteal/buttock areas, or thighs. Dr. Beckenstein may use a conventional technique using pedicled flaps (blood vessels remain attached), or with microsurgical methods known as free flaps.
Because of the donor site, these procedures are more complex than reconstruction surgery using breast implants. They involve a more intense recovery, but yield results that many people believe look and feel more natural.
Prosthetic/Implant Reconstruction
Some patients choose to have Dr. Beckenstein use breast implants for reconstruction. These devices can re-create the breast shape and feel with good aesthetic results. Because the operation doesn't involve taking skin or muscle from a donor site, the procedure and recovery are less complex than autologous tissue reconstruction.
Both reconstruction techniques have their own nuances, side effects, and potential complications. Dr. Beckenstein makes sure you fully understand the unique nature of each method when he assists you in making your decisions about breast reconstruction. Not every patient is a candidate for reconstruction and not every method is suited for each woman.
During your visit with Dr. Beckenstein, he evaluates your medical history and physical health. He also discusses your status with your oncologist and oncologic surgeon. With careful analysis of all this information, he can determine if you are a good candidate for reconstruction and what procedures might be best suited to you.
A Reputation Built on Results
My telehealth visit went as planned. It was a quick and easy way to visit Dr. B without making a two-hour...
Dr. Beckenstein and his staff treated me with so much kindness and respect from beginning to end. Contact...
Excellent surgeon and all of the staff that works with him. He cares about your overall health and that...
Always helpful and answers any questions I have. Thank you!!
Breast Reconstruction Following Lumpectomy
Depending on your breast size and the amount of tissue that needs to be removed around a tumor, a significant breast deformity or asymmetry may result after a lumpectomy. A consultation before your lumpectomy helps Dr. Beckenstein determine if breast reconstruction can be performed at the time of your lumpectomy.
A single combined surgery is an option before radiation. It would involve removing the tumor and some additional surrounding breast tissue, sampling or excising the lymph nodes, and performing breast reconstruction. Breast reconstruction can restore symmetry to your breasts with either breast reduction or breast lift. The margin around the tumor is often more than the lumpectomy, which adds a significant benefit to the procedure. Dr. Beckenstein was among the first surgeons in Birmingham to offer this procedure, known as onco-plastic surgery.
Reconstruction After Radiation Therapy
Patients considering breast reconstruction after having a lumpectomy and radiation therapy have fewer options and may need more extensive surgery. That's because radiation treatments irreparably damage skin and soft tissue. This requires Dr. Beckenstein to use additional natural tissue (usually from your back) to restore your breast size and volume. Some patients see a deformity or asymmetry emerge up to 2 years after radiation therapy, but Dr. Beckenstein encourages patients in this situation to contact him for a consultation to determine if reconstruction is still possible.
Dr. Beckenstein ensures that every breast reconstruction candidate has a complete understanding of her proposed procedure. He will go into complete detail of the procedure along with all the risks and benefits associated with it prior to your surgery.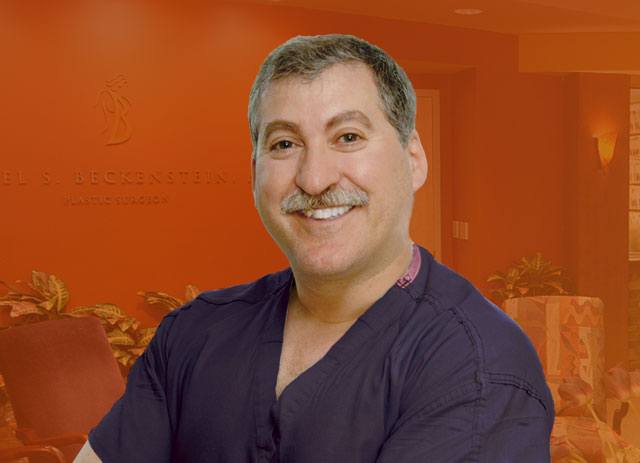 Dr. Michael S. Beckenstein
Dr. Beckenstein is a fellowship-trained, board-certified plastic surgeon whose extensive experience in breast enhancement, body contouring procedures, and reconstructive plastic surgery sets him apart.
Meet Dr. Beckenstein
Common Questions
Is it true that recovery from breast reconstruction is painful?
Prescription medication, when taken on schedule, helps most patients effectively manage their discomfort. Breast reconstruction is somewhat more invasive than other surgeries. You can expect to feel discomfort for several days or even a few weeks after your procedure. Depending on many factors, you might be offered an internal pain pump. Dr. Beckenstein discusses pain management during your comprehensive consultation.
Can my nipple and areola be replaced after reconstruction?
Yes. For most women, reconstructing a nipple involves a second surgery to recreate the small projection of the nipple with some of the surrounding tissue. The areola is usually recreated by tattooing the skin around the nipple at a subsequent appointment after the new nipple has healed.
Do I have to have breast reconstruction?
No. Not all patients are ready to have reconstruction. Some women don't want to undergo additional surgeries and many breast cancer patients may choose to wear an artificial breast (prosthesis). Dr. Beckenstein can discuss all of your options during the consultation.
Will health insurance pay for breast reconstruction?
A federal law passed in 1998 requires group health and individual health insurance for reconstructive surgery following a mastectomy. Plans should cover reconstruction of the breast on which the mastectomy was performed and surgery for the other breast to produce a symmetrical appearance. Artificial breasts are also covered.
If you would like to learn more about reconstructive plastic surgery in Birmingham, you can use our online system to request a Comprehensive Consultation with Dr. Beckenstein at his office on St. Vincent's Drive. You can also call (205) 933-9308 to speak with an office associate who will be delighted to provide you more information and assist you in any way.