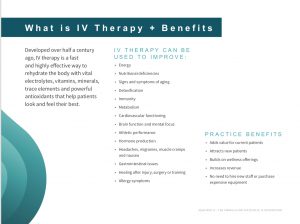 Alabama's first  surgeon run IV therapy practice: Aqua Med IV flows into Alabama! Birmingham plastic surgeon; Michael S. Beckenstein, M.D., known for bringing new therapies and technology into Alabama, has introduced this innovative, wellness therapy into his plastic surgery practice. Hydration therapy has been around for over 50 years and promotes wellness through simple IV infusions and/or injections. Fluid, electrolytes, minerals, trace elements, antioxidants, and vitamins are used to make patients look better, feel better, and perform better.
Dr. Beckenstein states " After researching this and seeing how well it has done overseas, I have become a believer in this and knew it would fit and serve my patients well. First, I always consider safety and effectiveness, before I introduce anything new. Hydration therapy is just that and what we use is FDA approved and we obtain our compunds from a certified pharmacy. I have partnered with Aqua Med IV because they are safe and successful which is exactly my philosophy." He adds " One of the most important aspects of hydration therapy is for my surgical patients. Like elite athletes, they endure intense physical stress and need to pre load their bodies to prepare for surgery and recover as well.  This makes their peri operative experience much better.We offer specific therapies before and after surgery to promote better recovery. I cannot begin to say how pleased I am with what I have seen from this so far." Dr. Beckenstein's practice offers several therapies specific for weight loss, performance, recovery, and generalized wellness. Wellness programs include therapies that benefit immunity, metabolism, allergies, thinning hair, and skin health.
These treatments require intravenous and/or an injection. Michael S. Beckenstein, M.D. personally oversees these treatments, and is performed by his experienced staff, in his office. " We provide a nice, calm, relaxing atmosphere for my patients where they can enjoy the half hour required for the infusion, the injections are completed in 2 minutes! I think this is going to become very popular here, in Alabama" Dr. Beckenstein concludes.