Anné Chesson was in second grade when a school bus accident caused her life-threatening injuries. She was in a coma for 2 months, suffered a crushed pelvis, broken leg and fractured skull, and lost roughly half of all the soft tissue and muscle in her lower body. Anné, now age 21, was interviewed by Teen People in 2005 about her experience and the long road to recovery, which included reconstructive surgery from Birmingham plastic surgeon Dr. Michael Beckenstein to correct her extensive scarring.
The Accident and Critical Care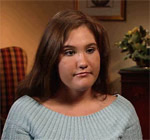 While she was walking home from school in the second grade, Anné was struck by a school bus and dragged several yards. She remembers nothing from the accident, and was in a coma for 2 months before awaking in a hospital bed, hooked up to tubes and wires. "I was in a lot of pain," she says. She had had surgery to correct several broken bones in her lower body, "but worst of all were the skin grafts," both in terms of pain and scarring. Doctors had to remove healthy skin from her back, legs, and stomach, attaching this skin to areas damaged during the accident.
Due to her extensive lower body injuries, Anné had to stay in the hospital another month, learning how to walk again. "Even when I was able to head home, I was in too much pain to go to school," says Anné. A teacher came in to homeschool her, and her friends would come to visit, but it was a time of immense heartache and frustration for her.
Thinking About Reconstruction
About a year after the accident, with much of the pain subsiding and Anné searching for a way to look "normal" again. She and her parents began contacting local plastic surgeons. "I thought reconstructive surgery could make my scars look better, and help me put the whole thing in the past," she says. But she was turned away by the first few surgeons she met with all who claimed there was nothing they could do to improve her extensive scarring.
"I was incredibly sad and almost lost hope," Anné says, "but then I found Dr. Beckenstein." He reviewed her case and told her he could help. "This young girl came to me and I was inspired by her story, by the strength she had to endure and make the best of her situation," says Dr. Beckenstein. "I told her it would take time and would be painful, but with plastic surgery and a series of tissue expansions she would be able to wear a bikini if she wanted to. I could see the spark in her eye and her happiness about being able to feel OK again."
Dr. Beckenstein used tissue expanders — inflatable silicone shells that stretch the skin over time — to create new healthy skin that could be grafted onto areas of scarring. "Dr. Beckenstein wasn't kidding when he said this would be painful," notes Anné, "but I was willing to make the sacrifice." Anné had 18 separate surgical procedures over the course of 5 years to improve her scarring.
Anné's Whole New Outlook
"My scarring is barely noticeable and I feel great wearing anything now," exclaims Anné. She felt so confident about her appearance that she even entered a series of beauty pageants, placing in each one of them. "Today, people know me as me, not as 'the girl who got hit by the bus.' And seeing Dr. Beckenstein's dedication to my care has inspired me to want to become a plastic surgeon. With his help and the help of so many other caring people in my life, I survived a tragedy and have the confidence to do whatever I want in my life."
If you would like to know more about revision surgery, please request your comprehensive consultation or call  (205) 267-5363 to schedule an appointment with Dr. Beckenstein at his office on St. Vincent's Drive.