The early signs of facial aging can be unsettling. As wrinkles and lines begin developing, you may want to somehow turn back the clock without undergoing cosmetic surgery. A liquid facelift that combines dermal fillers and BOTOX® at my Birmingham, Alabama practice could be the answer.
There are many nonsurgical options available to replenish volume and relax muscles that cause worry lines and crow's feet. A liquid facelift involves a series of injections of dermal fillers such as RADIESSE®, Sculptra®, or the JUVÉDERM® collection of fillers to produce impressive results.
The liquid facelift can treat nearly any area of the face: marionette lines, jowls, thinning lips, sunken cheekbones, and more. The advantages over other procedures include no downtime, no need for general anesthesia or incisions, and it can be performed in as little as 15 minutes in my office. There is minimal discomfort as a numbing agent is included in the injection. Minimal bruising and redness can be expected at the injection site.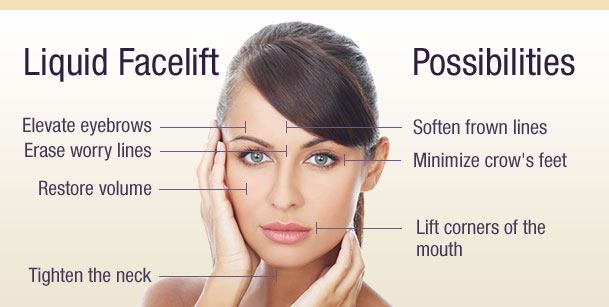 A liquid facelift is considerably less expensive than a traditional facelift— which can cost thousands of dollars and take weeks for recovery. Finally, a gentle lift and naturally refreshed appearance can be achieved without the look of being "done".
Nearly anyone in good general health is a candidate for this procedure. I see women and men considering a liquid facelift who travel from Montgomery, Huntsville, and throughout Alabama to our plastic surgery practice in Birmingham. You can contact us to request a consultation or call us at (205) 208-4261. I thank you for your interest in my plastic surgery practice and look forward to helping you to achieve your cosmetic goals.